More bad news from Germany
Industrial production continued the trend of other macro data this week, illustrating the economic impact of the war in Ukraine on the German economy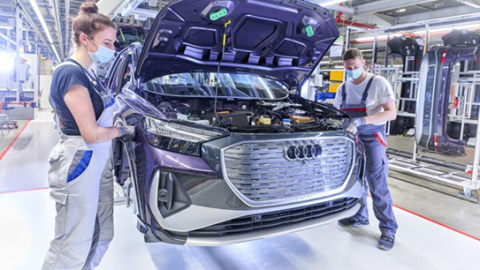 If you are in search of bad news, just have a look at German macro data. Industrial production just wrapped up an entire batch of expectedly weak March data. Output fell by 3.9% month-on-month in March, from +0.1% MoM in February. On the year, industrial production was down by 3.5%. Activity in the construction sector increased by1.1% MoM, from -1.3% MoM in February. Compared with the final quarter of 2021, industrial production was up in the first quarter of 2022. However, with today's data and without any improvement, industrial production would be a drag on growth in the second quarter. We continue to expect a contraction of the German economy in the second quarter.
German industry is clearly suffering from disrupted supply chains on the back of the war in Ukraine and lockdowns in China. Industrial confidence is still close to where it was last spring but production expectations have come down significantly since the start of the war in Ukraine and are now at their historical average. Interestingly, production expectations have plunged while order books are still richly filled. The explanation for this discrepancy could very well be that the new lockdowns in China and the war in Ukraine have not only created new supply chain and energy disruptions but also brought back last year's supply chain frictions. Given the highly internationalised production processes in German industry, expect more semifinished products waiting in Germany for semiconductors or other input materials from Asia.
Looking ahead, the latest drops in new orders, the well-known supply chain problems plus high uncertainty, high energy and commodity prices and potential energy supply disruptions will not make life any easier. The green transition and the need for investment are currently a silver lining not only for German industry but for the entire economy. In the short run, however, the three pillars of Germany's successful economic business model, exports, industry and energy, have become Germany's Achilles' heel.