France: Inflation continues to rise while consumption rebounds slightly
French inflation has not yet peaked; it rose again in February and both headline and core inflation will probably creep higher in the coming months. Household consumption of goods rebounded in January, but this increase is partly misleading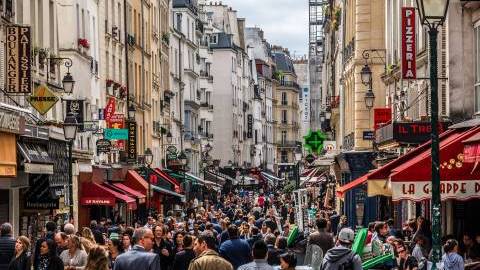 Inflation is still rising
The time for inflation to recede has not yet come in France. In February, consumer price inflation stood at 6.2%, up from 6% in January, as a result of accelerating food and services prices. The harmonised index, which is important for the ECB, stood at 7.2% compared to 7% in January. Month-on-month, consumer prices rose by 0.9% compared to 0.4% in January.
While in other European countries, the contribution of energy to inflation is becoming negative, energy continues to make a significant positive contribution to inflation in France. Despite the fall in oil prices, energy inflation is now at 14% over one year, compared to 16.3% in January. This is due to the revision of the tariff shield, which led to a 15% increase in household electricity bills in February (compared to 4% in 2022), in addition to a 15% increase in gas bills compared to 2022 prices since January. While government measures on energy prices had brought down inflation in France by almost 3 percentage points in 2022, French households are finally facing sharp increases in their energy bills, well behind their European neighbours. In France, energy inflation will probably continue to contribute positively to inflation throughout 2023.
As in other countries, food inflation in France continues to rise, posting a 14.5% year-on-year increase in February, up from 13.3% in January. As the annual negotiations between supermarkets and food industry suppliers are due to end tomorrow, further food price rises are expected in the coming months (there is talk of an additional 10% price increase). Food inflation is therefore expected to rise further until the summer, contributing more and more to French inflation.
With the end of the winter sales on 7 February, prices of manufactured goods are rising again, reaching a 4.6% growth over one year. Despite the normalisation of supply chains, the producer price index does not indicate a slowdown in inflationary pressures. On the contrary, French industrial producer prices accelerated again in January, by 1.6% over the month, compared to +1% in December, due to the strong acceleration of prices for products destined for the French market, while those destined for foreign markets are falling. Over one year, the growth of producer prices is 14.9%. In addition, the price intentions of manufacturers are only slightly down, according to the surveys. We should therefore expect a further acceleration in the prices of manufactured goods in the coming months, before a probable slowdown in the second quarter.
Finally, services inflation is rising to 2.9% from 2.6% in January, due in particular to a series of price revisions in transport.
We will have to wait until the summer to see inflation go down
February data indicate that French inflation has still not peaked. Both headline and core inflation are likely to continue to rise in the coming months, giving the ECB further reason to continue raising rates beyond the first quarter. Despite a favourable base effect for petroleum products, it will probably take until the second quarter to see the peak in inflation in France and until the summer to see inflation really come down. Average inflation in 2023 will therefore probably be higher than in 2022. We expect 5.5% for the year, and 6.3% for the harmonised index, against 5.2% and 5.9% respectively in 2022.
At the end of 2023, inflation will probably still be above 4%, a level higher than the European average. The deceleration in price developments is expected to continue in 2024, but will still be slow, averaging 2.6% over the year (3.5% for the harmonised index).
Household consumption of goods rebounds
Besides the inflation figures, INSEE is taking advantage of this last day of February to publish two other interesting statistics. First, the final estimate of GDP growth for the fourth quarter, which definitively determines the starting point for 2022 growth, was confirmed at +0.1%.
Second, the household consumption of goods figures for January are particularly interesting as this is the first indicator of activity for 2023. The big question was whether the overall improvement in sentiment indicators since the beginning of the year would be reflected in the real data. It turns out that household consumption of goods rose by 1.5% in volume terms in January, compared with a fall of 1.6% in December. This increase is partly misleading. It is caused by a 4% increase over the month in energy consumption, which is mainly explained by the decrease in state aid for the payment of household energy bills. The reduction of the "energy voucher" has reduced the share of energy expenditure borne by the public authorities, which in turn has increased the share borne by households. According to INSEE, actual household consumption of both electricity and gas fell in January.
The figure for consumer spending, therefore, paints an overly positive picture of the situation. Nevertheless, the data indicate a rebound in consumption of manufactured goods (+1.3% compared to -1.7% in December) and food consumption (+0.6% compared to -1.9% in December), suggesting that consumption has started the year on a slightly better note than at the end of 2022.
Recession risk recedes, but growth momentum will remain weak
These data suggest that GDP growth should be a little better than expected in the first quarter and remain in positive territory. The risk of a recession this winter is receding. Nevertheless, there are many risks to the French economy for the rest of the year. The inflationary peak has not yet been reached in France, so the shock to purchasing power is not over.
Consumer confidence remains at a very low level and households' willingness to save is at its highest since May 2021. It seems that, in the face of inflation, households would rather strengthen their savings than dip into them. The increase in the interest rate on the Livret A (the most popular savings product for households) to 3% in February is likely to further reinforce this mechanism. All of this will continue to impact on consumption, which will remain weak.
In addition, the support of fiscal policy for purchasing power will become less important in the coming months. At the same time, the construction sector remains under pressure and the rise in interest rates is likely to continue to weigh on household and business investment spending. Ultimately, the French economy is likely to remain weak throughout 2023, but also in 2024. We expect growth of 0.7% both in 2023 and 2024.