Snaps
25 May 2023

Updated about 2 weeks ago
The Bank of Korea again keeps its policy rate on hold
It's the third time in a row that South Korea's central bank has kept its rates on hold. It's also cut the country's growth outlook for the year, although the inflation forecast is unchanged. We don't think growth will recover as strongly as the BoK thinks. A rate cut is still possible by the end of the year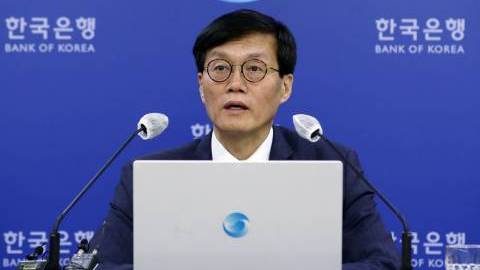 The Bank of Korea is not complacent about inflation
As widely expected, the BoK kept its policy rate at 3.5% for the third consecutive time as headline inflation hit 3.7% YoY in April, while inflation expectations have also recently fallen to 3.5%. However, headline inflation still stays above the BoK's target of 2% and core inflation, excluding food and energy, barely edged down to 4.0% from the recent peak of 4.3%.
In addition, there are scheduled increases in utility and service prices, which will likely add to inflationary pressures over the next few months. We believe the current level of inflation is not quite strong enough to convince the BoK to change its position. Also, Governor Rhee Chang-yong said at the news conference that all six board members were open to a terminal rate of 3.75% as inflation uncertainties remain high later this year.
Inflation is key for the BoK's policy action ahead
The BoK kept its inflation forecast for 2023 at 3.5% but revised up core inflation from 3.0% to 3.3%. Governor Rhee referred more often to core inflation instead of headline during the conference. Thus, we believe that core inflation will be more closely watched for the time being.
The BoK revised down its 2023 and 2024 GDP growth forecasts from 1.6% YoY to 1.4% and from 2.4% to 2.3%, respectively, as the IT recovery and China's reopening 'boost' have been weaker than expected.
BoK outlook for inflation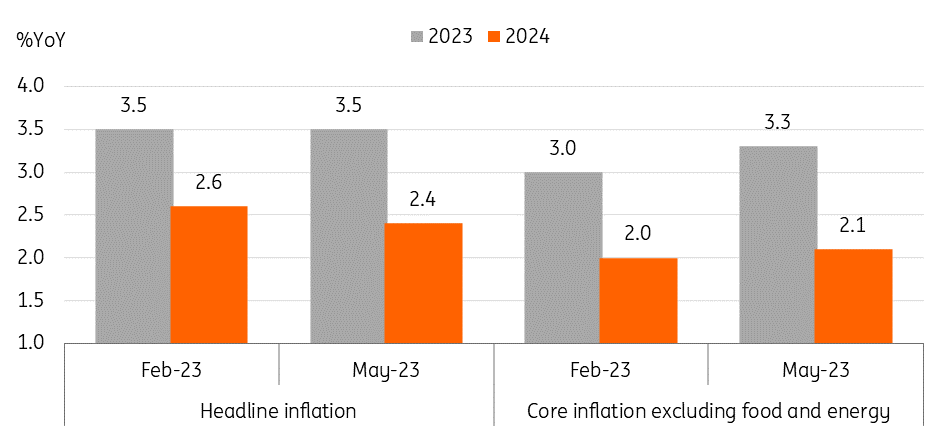 Sub-potential level of growth will weigh on inflation
We believe that the BoK's concern about inflation appears to have strengthened as core inflation remains higher than expected, so the possibility of a rate cut within the year has been slightly lowered. But we still don't think the BoK will make another rate hike in the near term. Given that uncertainty in global financial markets is likely to continue to grow with global credit and monetary conditions tightening, and global demand in the US and EU expected to weaken as well, we believe the cooling of global inflation will become more visible in the second half of the year.
Domestically, it is true that there is still accumulated price-rise pressure, but a total of 300 bp rate increase, a continued slowdown in the housing market, and a modest economic recovery are expected to eventually weigh on domestic inflation components.
GDP forecasts : BoK vs ING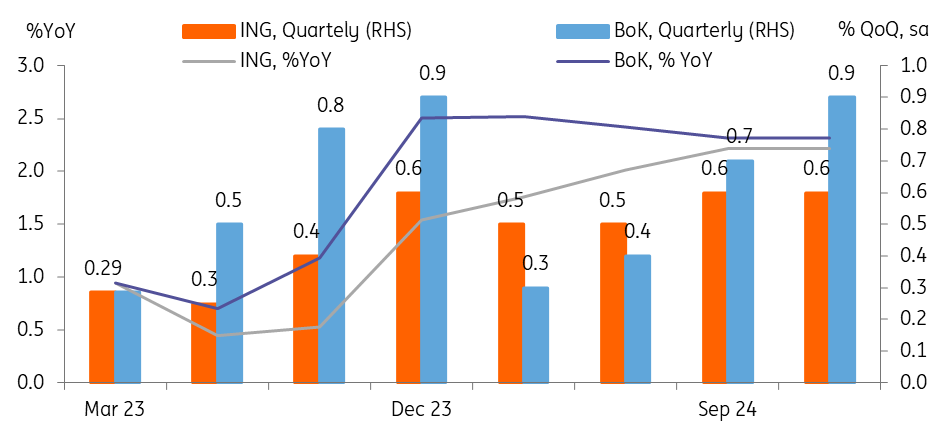 In terms of growth, we think that the weak exports appear to have expanded more broadly. So far, the weakness was mainly driven by IT and exports to China, but exports to other developed markets have also moderated recently. Auto exports have been robust, supported by the improvement of global supply chains and catch-up demand, but it is expected to soften over the next few months, while global IT demand conditions will bottom out only by the end of the year.
For domestic demand, we believe that investments are expected to contract for the time being, given a slowdown in the housing market and heightened financial stress both for businesses and households. For more detail on this, please see our note "Strong headwinds ahead for South Korea's housing market". We believe South Korean GDP will likely remain below its potential level throughout 2023.