Poland's inflation still trending upwards
Consumer inflation rose by 17.9% year-on-year in October (flash) from 17.2% YoY in September. In monthly terms, prices increased at the fastest pace since April. Price growth is increasingly broad-based. The majority of the MPC is calling for an end to the tightening cycle, but we believe the Council will hike rates by 25bp in November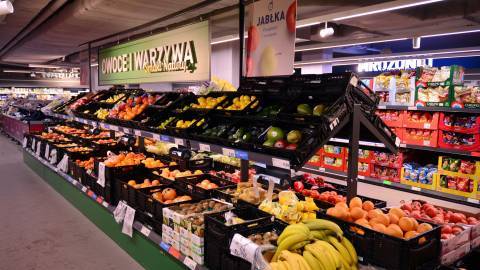 According to StatOffice's flash estimate, CPI inflation rose by 17.9% YoY in October from 17.2% YoY in September. CPI growth was close to our forecast (18.1% YoY) and broadly in line with the market consensus. As expected, October saw an increase in petrol prices (4.1% MoM). This was accompanied by a further increase in energy prices (2.0% MoM). Market reports suggest that the peak in coal prices is probably behind us. At the same time, we continue to see an increase in food prices. Compared to September, prices for food and non-alcoholic beverages have risen by as much as 2.7%, and on a year-on-year basis, the price increase in this category is already close to 22%. The spillover of price increases into the overall economy is ongoing, following earlier increases in energy and transport costs. We estimate that core inflation excluding food and energy prices rose to around 11.1-11.2% YoY in October from 10.7% YoY in September.
Food prices rising fast
Prices of food and non-alcoholic beverages, % YoY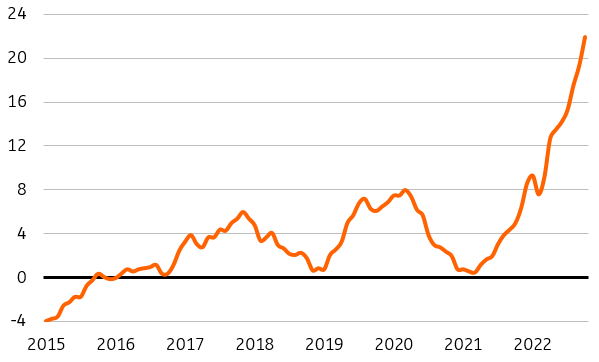 Momentum is strong, with the CPI rising by 1.8% on a monthly basis, the highest since April this year. Not only has the scenario of an inflation peak in the summer not materialised, the story of an inflation plateau is also becoming increasingly difficult to defend. The local inflation peak is still ahead. Next February, inflation will exceed 20% YoY and a decline to single-digit levels will not occur before the fourth quarter of next year. The inflation outlook remains highly uncertain with risks tilted to the upside. Should the government decide not to extend the VAT reduction on electricity from 23% to 5% beyond end-2022, inflation could jump by around 0.5 percentage points from January 2023 on top of our current estimate.
The fight against inflation is not over yet, but the MPC appears to be dominated by those who support an end to the cycle of interest rate rises. November's interest rate decision will largely depend on the shape of the latest NBP macroeconomic projection. We expect this to indicate a higher CPI path than the July projection, and the persistence of inflation above the NBP's target. Therefore, we expect the Council to raise interest rates by 25bp next week (our baseline scenario), although the probability of interest rates remaining unchanged again is also high.