ECB: Waiting for the summer
This was an ECB meeting which had "see you in June" written all over it. In fact, there was very little news from the central bank, except for a reshuffling of the introductory statement, putting forward guidance on rates at the top and trying to hush any discussion on possible tapering. It's a safe bet: the June meeting will be much more exciting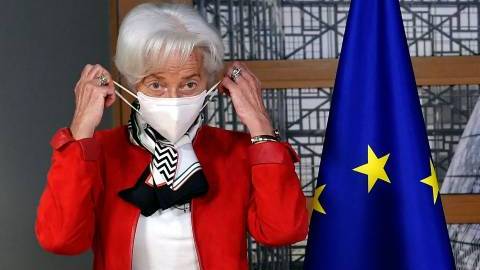 The European Central Bank's macro-economic assessment has not changed since the March meeting. As ECB President Christine Lagarde explained during the press conference, there are still many uncertainties regarding the economic outlook, with the first signs of a bottoming out and sufficient arguments to see the expected recovery unfold. Therefore, the assessment that medium-term risks were more balanced was confirmed. Regarding inflation, the ECB still expects a subdued increase in core inflation this year and a gradual increase in headline inflation over the medium term.
In the run-up to today's meeting, there had been growing speculation about when the ECB could start tapering its bond purchases. During the press conference, Lagarde said that the Bank had not discussed this topic at all and that such a discussion was "premature". Indeed, in our view, such a discussion is premature today. But what happened to the forward-looking character of monetary policy?
On the lighter side, today's meeting at least spared us from any 'holistic', 'downstream' or 'upstream' terms. And today's meeting was never expected to be a killer one anyway. Instead, expect the June meeting to be very exciting. If the more optimistic projections for the vaccination rollout really materialise – the media reported today about Germany stopping the prioritisation of certain age groups by the end of May – some 50% of all eurozone citizens could have had a first jab when the ECB meets next, on 10 June. If this is the case, the next batch of staff projections could show an upward revision to the growth forecasts and a confirmation of the economic recovery in the second half of the year. Combined with a further acceleration of inflation (forecasts) on the back of higher input prices and the German VAT reversal, there will be sufficient ingredients at the June meeting to have a serious discussion about the timing of tapering. They won't decide on this imminently but with a further improvement in economic prospects and herd immunity within reach, the ratio for a Pandemic Emergency Purchase Programme being in place will weaken by the week. Consequently, there will be a point in time, and probably not in the too distant future, at which the ECB will have to make up its mind on how to moderate a rotation away from PEPP to the 'old' asset purchase programme (currently running at 20bn euro per month) and hence a very gradual exit from its so-called unconventional measures.