Polish economy proves its resilience with only minor GDP contraction in the first quarter
According to a flash estimate, Poland's GDP declined by 0.2% year-on-year in the first quarter, despite a high reference base. The quarterly data show the economy grew by 3.9% quarter-on-quarter and avoided a technical recession. Full-year GDP could grow above 1%, so we are back to our above-consensus expectations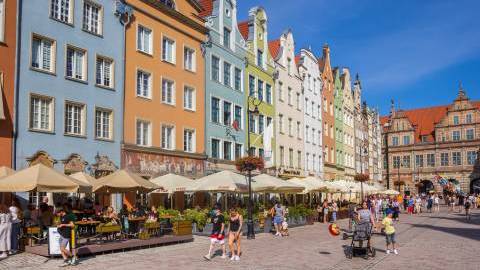 Polish GDP contracted by 0.2% year-on-year in the first quarter of the year, better than the market consensus of -0.8% and ING's forecast of -1.5%. This follows growth of 2.3% YoY in the fourth quarter of 2022.
The seasonally adjusted figures show GDP growth of 3.9% quarter-on-quarter (non-annualised), following a 2.3% QoQ decline in the final quarter of last year, meaning the Polish economy avoided a technical recession. The year-on-year decline is largely the result of a very high baseline from the first quarter of 2022, when the economy grew by 4.4% QoQ (SA).
The report doesn't include data on the GDP structure, which won't be known until 31 May. But in our view, the year-over-year decline was mostly a result of the deepening decline in household consumption, following a 1.1% YoY drop in the fourth quarter of last year. In addition, the likely negative contribution of inventory changes reflected a partial normalisation of business inventories, although the magnitude of this may have been lower than our expectations. This is supported by the normalisation of supply chains and the deceleration of increases, or even declines, in the prices of some components.
Supporting GDP in the first quarter of this year, in our view, was foreign trade. The increase in exports in real terms was accompanied by a decline in imports on an annualised basis, related to shrinking domestic demand (consumption, inventories). The normalisation of commodity prices brought a marked deceleration in import prices.
We started the year with a very optimistic and above-consensus GDP forecast for 2023 at +1% YoY, assuming strong net exports. We later revised it down to +0.5%, due to weakness in domestic demand.
There are still many risks ahead. If a "credit bomb" does not fall on the US and Europe (and recent data indicate that the effects of the regional bank crisis in the US are somewhat less than expected), Polish GDP in 2023 could grow above 1%YoY (1.5-2.5% YoY).
Our baseline scenario assumes that the first quarter was a turning point, and subsequent quarters will bring an upturn, albeit a moderate one. We expect a more pronounced rebound only in the fourth quarter of the year. A key prerequisite for a rebound is a further decline in inflation and a recovery in consumer purchasing power, which will reignite spending.
Maintaining a positive contribution from net exports will also be important for GDP momentum throughout 2023. The situation abroad is still uncertain, and we see a wide range of expectations, from recession scenarios in the US and Europe, to more optimistic ones.