French goods trade balance improves for the first time in two years
In October, the goods trade balance deficit narrowed for the first time since the end of 2020, thanks to a marked improvement in the energy balance. Although the goods trade balance is still at extremely low levels, the current situation cannot really be considered worrying beyond the energy trade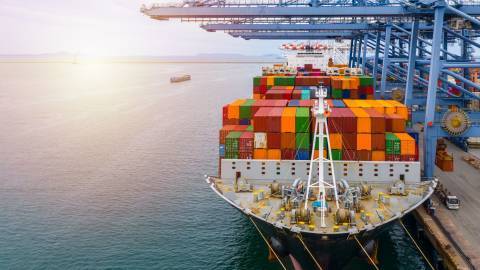 Improvement in the trade balance
In October, France's goods trade balance improved for the first time since the end of 2020, thanks to a marked improvement in the energy balance. Well-filled gas reserves allowed France to reduce its gas imports in October. In addition, electricity imports were lower, in volume, but especially in price, thanks to the sharp decrease in electricity prices in the markets. The trade balance in goods now stands at €-12.2bn compared to €-17.2bn in September. The non-energy trade balance also improved in October to €-5bn from €-6.6bn in September, with exports falling less than imports.
Stronger underlying trends
Overall, although the trade balance deficit is often seen as an alarming signal of the state of the French economy, the current situation cannot really be considered worrying beyond the specific situation of the energy trade. In fact, the deterioration of the French external position in recent months is entirely energy-related and the underlying trends are rather solid. Since the beginning of the year, French exports have been more dynamic than in neighbouring countries, thanks to the strong rebound in sales of transport equipment abroad, but also due to the surge in agricultural exports, including wheat. The war in Ukraine has allowed France to generate a large agricultural surplus. At the end of the third quarter, French exports were up by 20% compared to before the pandemic (in value) and France's share of world demand has stabilised. In addition, alongside the deficit in the balance of goods, the balance of services is usually in surplus in France and should remain so in the coming months.
A worsened economic outlook
After months of widening deficits, this improvement can be seen as good news for the contribution of foreign trade to economic growth. This could be positive in the fourth quarter and limit the risk of a significant contraction in GDP. Given the weakness of household consumption, we expect a slight contraction in GDP in the fourth quarter, which would see French GDP growing by 2.5% on average over the year 2022. For 2023, we fear that GDP will show a slightly negative figure for the whole year, due to the context of inflation which deteriorates purchasing power, higher rates which slow down investment, deteriorated economic sentiment, and a weaker global environment. Given energy price developments in November and the first few days of December, the goods trade balance could widen further in the coming months, but underlying trends in the goods and services balance could continue to improve.