France: business outlook worsens
French business sentiment fell back in April, following a deterioration in the outlook for activity and demand. This does not bode well for economic growth in the coming months. For the first time, inflationary pressures are clearly moderating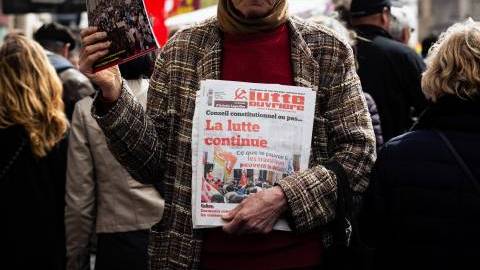 The outlook darkens
While France has had weeks of strikes and protests over pension reform, April business climate data provide key insights into France's economic situation at the start of the second quarter. Since the beginning of the year, French economic activity had shown signs of resilience, but now it seems that the economic context is darkening. Thus, the business climate fell back in April to 102 compared to 103 in March, a figure still above its long-term average.
While the current assessment is still OK-ish, the index's components relating to the outlook for activity, demand and order books have deteriorated markedly, both in the services sector and industry. This signals a much less positive view by business leaders of the outlook for the French economy in the coming months, which does not bode well for economic growth.
Moderation of inflationary pressures
The only good news in the report is the sharp fall in expected sales prices by manufacturers and retailers and the slight fall in expected prices in the services and construction sectors. This is the first time that we have seen a real moderation in inflationary pressures in France, suggesting that consumer price inflation should gradually decline over the coming months.
This is good news for the European Central Bank, although inflation in France is likely to remain higher than in other European countries until the end of 2023. This is due to less favourable "base effects" in France than elsewhere, with French household energy bills having hardly increased in 2022 at a time when they were exploding in other countries. This allowed for much more moderate inflation in 2022 in France than in neighbouring countries.
Following the 15% increase in gas and electricity prices at the beginning of 2023, French energy bills continue to rise compared to 2022, while in other countries they have started to decrease gradually, in the wake of the sharp fall in energy prices on international markets. We expect inflation to average 5% for the year (5.6% for harmonised inflation).
Weak growth to be expected
Ultimately, the business climate data indicate that the pace of growth of the French economy is likely to be sluggish in the coming quarters. While GDP growth was probably slightly positive in the first quarter, an acceleration in the second quarter seems unlikely, given the disrupted social context, the global economic slowdown, rising interest rates and still very high inflation. Growth in the order of 0.1% quarter-on-quarter is expected for the second quarter. Furthermore, the outlook for the French economy remains subdued for the second half of the year. We expect growth of 0.6% in 2023 and 0.7% in 2024, after 2.6% in 2022.