US: Jobs - simply astonishing
Somehow the US jobs market has come back from the brink with employment surging 2.509 million despite none of the labour demand surveys suggesting this was remotely possible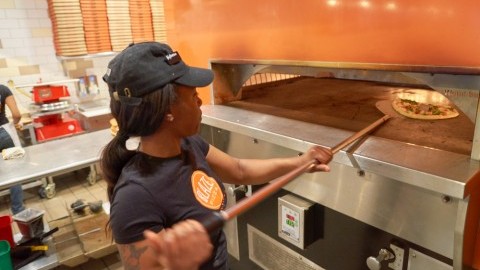 | | |
| --- | --- |
| 2.509mn | Number of net jobs created in May |
The biggest data surprise in history?
Apologies - this has taken a little longer to write having just fallen off my chair and broken it. US non-farm payrolls have risen 2.509mn in May versus a consensus estimate of a 7.5 million fall. This was so far away from what anyone was expecting. It is simply astonishing given the slow pace of reopening and the fact that more than 12 million people filed a new unemployment claim during the survey period. The ADP payrolls survey had come in stronger than expected, but even that still had a payrolls decline of 2.76mn so this is one of the biggest economic data shocks in history, if not the biggest.
The details show private payrolls rose 3.09mn with a 1.239mn increase in leisure/hospitality, a 368,000 increase in retail, a 464,000 increase in construction and a 225,000 increase in manufacturing. The only sector to experience a fall was in government (-585,000).
US non-farm payrolls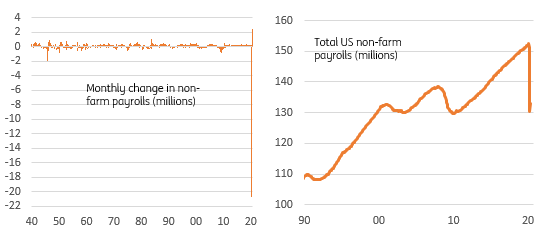 Unemployment down to 13.3%
The household survey, which is used to calculate the unemployment rate, was even stronger. It reported those saying they were employed as rising by 3.839 million, but there are some oddities in here given unemployment fell only 2.09mn so new workers appear to have been magicked up out of no-where. The response rate was well down on usual levels so this could be adding to the sense of confusion as well as how people self identify in the range of responses available to them in the survey. Either way, the unemployment rate has fallen to 13.3% from 14.7% and the proportion of 16-65 year-olds in work has risen to 52.8%.
Rounding out the numbers we have average hourly earnings falling 1%, which again reflects the distortions when you don't mix-adjust the data. Millions of relatively low-paid people now earning a wage will automatically drag down the average hourly earnings rate so this number should be ignored.
Unemployment and employment ratios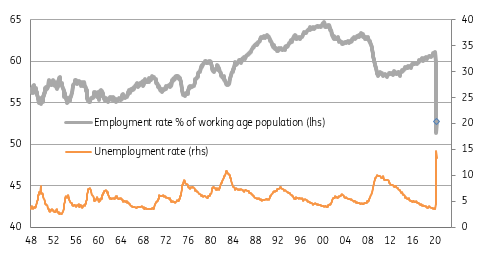 The recovery could get bumpier
There will naturally be some doubt lingering about these figures given they are telling such a different story to all other data on the labour market, but these are the official ones and on the face of it are fantastic. It suggests the American economy can bounce back very vigorously and we all need to massively revise up our economic projections.
The rebound in hiring should continue, particularly as consumer-orientated retail and hospitality-related industries continue to reopen. Nonetheless, caution is still warranted. Most restaurants and retailers are unlikely to need as many staff as they had before the pandemic hit given social distancing limiting customer numbers at any given time. Many businesses may simply take the view that it isn't economically viable for them to open at this stage and remain closed, particularly in big cities where office blocks will remain shut for some time to come and there isn't a flow of customers.
Furthermore, given the downturn in global economic activity, many manufacturing and professional service firms may also not need as many staff as they face up to the new economic environment of weaker corporate profits and higher debt levels. We also have to remember that even after today's great numbers, US employment is still 19.55mn lower than it was in February. We still have a long way to go...
This snap is part of