Snaps
23 May 2023

Updated 6 days ago
Poland: Drop in retail sales adds to disappointing April data
After a surprisingly resilient first-quarter GDP figure, April data was disappointing. Industry, trade, and construction figures all point to meagre GDP growth this year in Poland, of around 1%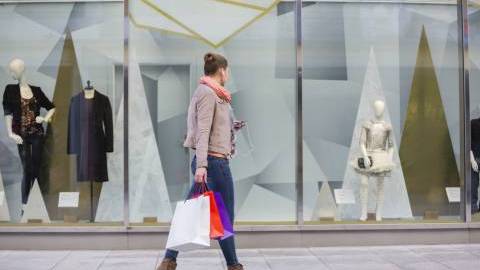 Retail trade remains lacklustre
Retail sales of goods fell by 7.3% year-on-year in April (ING forecast: -8.4%; consensus: -8.0%), similar to in March. But net of seasonal factors, sales rose by 1.1% month-on-month.
In terms of the sales structure, we continued to see deep declines in the "other" category (-17.3% YoY), sales of newspapers and books (-15.6% YoY), as well as furniture and household appliances (-14.7% YoY). The double-digit decline in fuel prices also continues. Only clothing and footwear (+0.6% YoY) saw an increase in sales. The trade data confirm positive price trends. The implied retail sales deflator declined in April to 11.5% YoY from 13.1% YoY.
On the one hand, April still had a relatively high baseline, as a year ago there was a wave of refugees coming from Ukraine, which undercut sales of necessities. On the other hand, persistently high inflation undermined households' real purchasing power, which translated into a reduction in some consumer spending.
Supporting trade in April was the high scale of refunds from the annual personal income tax (PIT) return. Cash receipts to the budget from this tax after March were lower than after February, which may have slightly boosted purchases in April. Gradual disinflation, combined with double-digit growth in nominal wages, should gradually contribute to a recovery in real disposable income and improved household consumption. The coming months may still be difficult for retailers, although the effects of high PIT refunds this year will be felt more in May, which may bring improvement.
Housing construction is in dire straits
In April, construction output rose by 1.2% YoY, below expectations of 1.8%, following a 1.5% YoY decline in March. Construction of buildings remains weak (down 6.4% YoY). This is a consequence of the still difficult situation in the housing market.
Economic data and reports from listed developers suggest that demand for housing is rebounding after a dismal turn of the year. The problem, however, is the large number of apartments on offer, the construction of which began back in the first half of last year. Most likely, even with an improvement in demand, they will cover it for about a year. Therefore, developers are finishing ongoing projects but not starting new ones.
On the other hand, civil engineering construction (+4.8% YoY) and specialised works (+7.0% YoY) look better. Here we are most likely observing the effects of finishing public investments in the last settlement year of the old EU budget. The overall picture for the construction industry remains unfavourable. However, selected areas, such as the construction of logistics centres and warehouse halls, stand out against this background.
The bottom line: a meagre 2023 GDP outlook
The monthly data for April (industry, trade, construction) draw a sluggish picture of the start of the second quarter. That being said, GDP growth in the first quarter surprised us positively. For the full year, we estimate economic growth in Poland at around 1%.