Germany: Industrial orders take a break
April industrial orders data point to a temporary halt in industry's rebound. A delay not a derailment.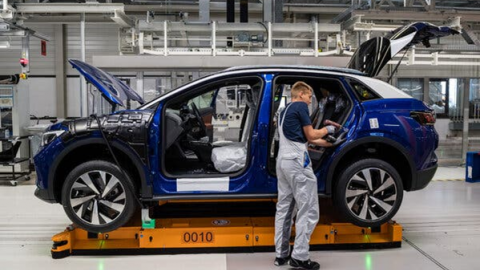 After the very disappointing start to the second quarter, with retail sales dropping by 5.5% month-on-month in April, the second hard data point for the quarter suggests that the expected rebound of the German economy has been slower than expected. Industrial orders dropped by a mere 0.2% month-on-month in April, from a strongly upwardly revised 3.9% in March. This was only the second monthly drop since April last year, and it was a very small one. On the year, industrial orders were up by almost 80%.
There are several possible explanations for the April stagnation in industrial orders: these start with bulk orders - industrial orders were up by 1.5% when excluding these bulk orders. Also, it could be due to the impact from ongoing supply chain disruptions, notably the Suez Canal blockage in early April or simply a temporary glitch after a strong rebound over the last year. In our view, probably all of these three explanations are relevant, at least to some extent. What is important is the fact that they are all temporary and that the rebound in German industry is set to continue, only not necessarily following a straight line.