German economy falls into winter recession
So much for reliable statistics! The German economy contracted in the fourth quarter of 2022 after the first tentative statistics pointed to stagnation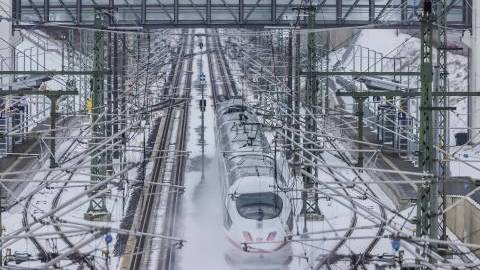 The German statistical office just released its first official estimate for fourth-quarter GDP growth, and recession fears are back. The economy shrank by 0.2% Quarter-on-Quarter, from + 0.5% QoQ in the third. GDP details will only be released in a few weeks, but private consumption was the main drag on growth according to the statistical office. As a result, annual GDP growth for 2022 was also revised downwards to 1.8%, from 1.9% YoY.
Economic outlook anything but rosy
Not falling off the cliff is one thing, staging a strong rebound, however, is a different matter. And there are very few signs pointing to a healthy recovery of the German economy any time soon. First of all, we shouldn't forget that fiscal stimulus over the last three years stabilised but did not really boost the economy. Industrial production is still some 5% below what it was before Covid, and GDP only returned to its pre-pandemic level in the third quarter of 2022. Industrial orders have also weakened since the start of 2022, consumer confidence, despite some recent improvements, is still close to historic lows, and the loss of purchasing power will continue in 2023.
Let's also not forget that, like every eurozone economy, the German economy still has to digest the full impact of the European Central Bank's rate hikes. Demand for mortgages has already started to drop and, as in previous hiking cycles, it didn't take long before the demand for business loans also started to drop. In short, the German economy will still be highly affected by last year's crises throughout 2023.
Germany's economic outlook for this year looks complicated
Germany's economic outlook for this year looks complicated, to say the least, with an unprecedentedly high number of uncertainties and developments in opposing directions. And there is more; the German economy is still facing a series of structural challenges which are likely to weigh on growth this year and beyond: energy supply in the winter of 2023/24 and the broader energy transition towards renewables, changing global trade with more geopolitical risks and changes to supply chains, high investment needs for digitalisation and infrastructure, and an increasing lack of skilled workers. This long list embodies both risks and opportunities. If historical lessons from previous structural transitions are of any guidance, even if managed in the most optimal way, it will take a few years before the economy can actually thrive again.
Winter recession remains base case for German economy
Today's GDP numbers once again show that caution, better than hope, is probably the best guidance for predicting German and European economic growth. The warmer winter weather, along with implemented and announced government fiscal stimulus packages, have prevented the economy from falling off a cliff, but a technical recession is still a likely outcome. We stick to our forecast of a winter recession in Germany and a very mild recession for the whole of 2023.